Snuggly drill fold. Cherrywood leather hold. Rattan rustle. Driftwood sweep.
In our day-to-day of whirlwind communication and with so much of experience filtered through screens and binary code, it pays on occasion to stop and re-focus on tactile activities that spring from the material world. We celebrate four headstrong female makers for whom the sensitive matter of matter (its touch, its strength, its age, its origin) is a fundamental tenet of creativity.
Based in York (but raised in the rolling Yorkshire Moors and recently relocated from Brighton), Tessa Layzelle gently graces interiors with her one-of-a-kind hand quilted blankets. Densely covered in Kantha stitching, her textiles – which double as throws, shawls, rugs and wall hangings – reference embroidered pieces by women in rural India, matched with bold geometric shapes which soften through their hand-worked nature and the tactile comfort of her ethically sourced fabrics. Selected for their strength, beauty and history Tessa's materials range from heavy cotton drills and denims (picnic blankets and snuggly play rugs) to finer vintage fabrics worked into smaller, lighter ensembles that throw a splash of colour onto a wall or tabletop. Tessa's quilts sell through the equally lovely Kiosk Project Space in York, run by her friend and collaborator Rebecca Carr.
Emily Griffin – Mahala
London-based Emily Griffin similarly upcycles pre-used fabrics though hers are of a more industrial nature. A trained cordwainer, Griffin's bags and interior furnishings stand out through their elegant appropriation of pre-used military canvas and saddle leather, which she carefully re-forms into handles that glow with the healthy sheen and worldliness of their equine ancestry. The bags themselves are refreshingly robust: simple, clean designs that transcend the aesthetic appeal of vintage patina and, true to their material origins, function as strong, durable objects of use.
Emily also runs a small shop on Hackney's Well Street. Close but at a slight remove from the chaos of hip East London, 'Mahala' is located amongst a pleasant array of steamy plant-filled cafes, butchers and florists. Her workspace (a one-time fishmonger; Emily maintains the old hand-painted signage) functions both as a workshop during the week and as a showcase for her pieces alongside the ethically-traded work of female artisans from developing countries.
With a background in furniture and seat-weaving, Dorset-based Kim Ravenscroft, who goes by Fluggadugga Weaving Works, produces multifarious furniture from stools to log baskets and cribs, all utilizing traditional basketry and hand-weaving techniques with organic materials.
Her stools and tables feature gloriously precise geometric designs with wide-ranging cultural reference points: a monochrome stool with receding black bands named 'Inca' (featured above); a 'Sea-Shade' woven from the dulcet tones of the 1950s seaside with dyed rattan and seagrass; a 'Patriot' table of Victorian design with hand-dyed lapping cane in red, white and blue. See Kim's website for more information about commissions and purchases.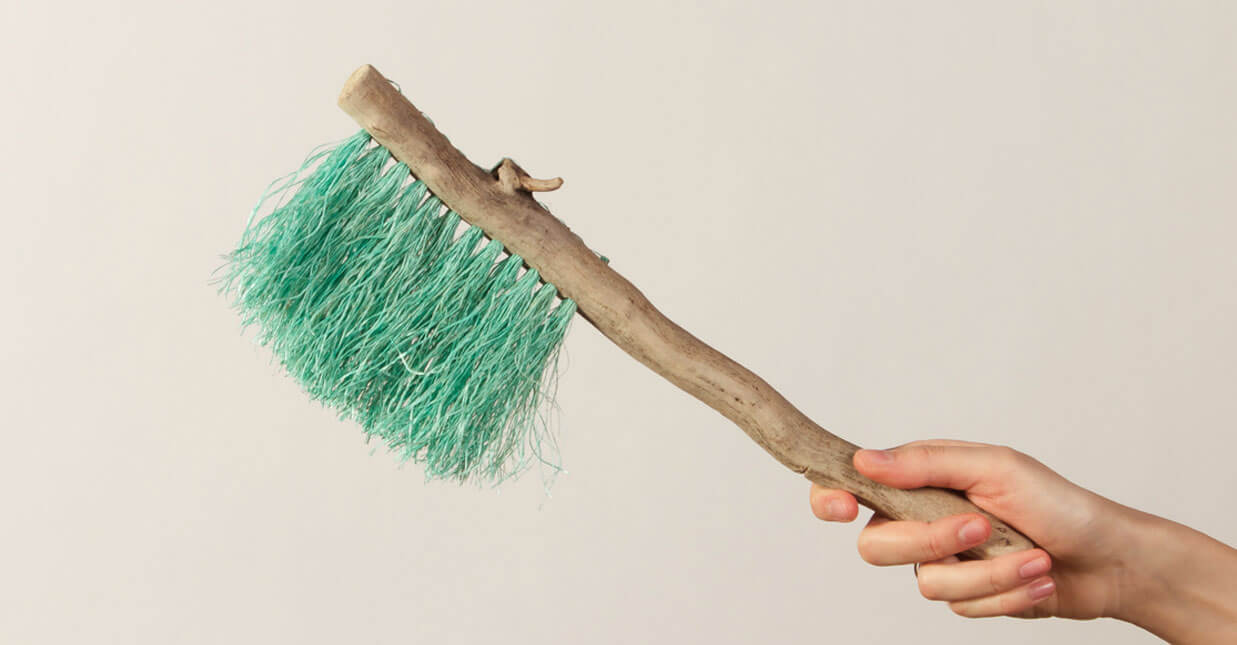 A recent graduate from the University of Brighton, Ellie Birkhead's works highlight the diversity and specificity of the humble brush. With an interest in refocusing attention on Britain's declining trades – and in particular the brush making industry – she combines traditional materials with highly unlikely finds from her local environment on the Sussex coast. Her series Brighton Brushes combines self-selecting driftwood with washed-up fishing net, aesthetically knotting together the corporeality of weathered wood with the chromatic but brash and pervasive problem of disposable plastics. The brushes are delightful; conceptually they speak to the contradictions embedded in their material origins, whist celebrating the nature of time invested craftswomanship and evading cynicism through their practical function as brushes that brush.