Ancient techniques, from traditional Mexican crockery to Talavera pottery, are resilient survivors in Mexico, passed down from generation to generation to make it to our homes.
Today we celebrate Mexico's tradition in handicrafts, along with the stubborn artisans that are keeping them alive.
Handmade Mexican artifacts are synonymous with high-quality pieces, conversation starters, storytellers. This is the reason why we keep going back to Mexico, looking for treasures to exhibit here, for you.
In our latest dive into the world of handmade Mexican pieces, we came around a group of show-stopping essentials we believe any home must have. Rich in heritage, with beautiful modern twists, they're great representations of what's so interesting about Mexico's design scene today. Scroll down so you meet the stunners, los guapos.
Modern Handmade Mexican Artifacts
Mexican artisans crafted this elegant little guy from locally sourced, sustainable clay. By purchasing the White Spike Ceramic Pot you are supporting traditional Mexican crafts and the people who dedicated their lives to maintaining their valuable cultural traditions.
The White Spike Ceramic Pot is a wonderful addition to a classy kitchen or even an outdoor dining table. What can we say, we're in love!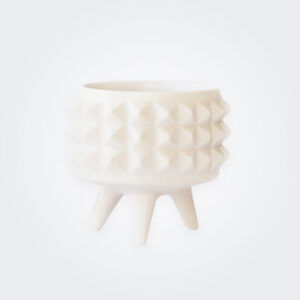 SHOP THE WHITE SPIKE CERAMIC POT
Decorated by hand in the traditional Talavera style of Puebla, this mug is perfect for drinks over your desk. It lifts up our mood anytime we're feeling the wrong kind of blue!
Painted in the iconic "132 Virrey" pattern, this handmade mug includes a plastic lid in case you're on the move.
SHOP THE BLUE TALAVERA POTTERY THERMO
Handmade by skilled artisans in Olinalá, in Mexico's Guerrero state, this lacquer technique is inspired by Asian cultures and informed by indigenous crafts.
Designs are carved out of wood in relief, with the lacquer then filling the hollowed portions. The lacquer is made from a mixture of plant-based binders (such as chia oil and cotton fiber) and natural pigments (such as limestone, quartz or a local mineral called tecoxtle). Once mixed, the lacquer is applied using indigenous tools such as deer tails or turkey feathers, each of which has a specialized role.
Remember we said something about "storytellers"? This is what we meant.
SHOP THE BLACK OLINALA ROUND TRAY
Although these are pretty enough to leave out on the counter for decoration purposes, this volcanic stone grinder is perfect for cooking: crushing herbs, spices, and of course avocado.
SHOP THE VOLCANIC STONE MORTAR AND PESTLE
Certified fair trade, Region's collaborations with artisans are as many exercises in cross-cultural dialogue as they are of design. The Ticul Bowl Set is one of those magical cases where color comes from the clay itself, a gorgeous red, coming to you straight from the earth!
If you like to know more about our meaningful stories and our world click on the link below